Deep Drawn Parts
Small parts. Big solutions.
Braxton provides the deep drawing advantage from subminiature to complex parts.
Compared to turning, extrusions, tubing, moulding and stamping, Braxton's deep-drawing techniques offer many benefits:
Beginning with a metal sheet and ending with a tubular part, this process minimizes material waste.
Superior part-to-part and batch-to-batch repeatability are assured.
Slitting, flaring and hole punching, normally considered secondary operations, can be performed on the deep-draw machine.
Intricate designs not previously possible can be produced.
Raw material is work-hardened during the drawing process, therefore eliminating the need for secondary heat treating on most finished parts.
Starting stock can be clad or pre-plated with gold prior to the deep-draw process, guaranteeing even coverage of gold on both the OD & ID of microminiature tubes with or without a closed end as small as 0.005″ (0.13mm) ID. This process also eliminates the threat of residual acid trapped in the parts, a type of contamination that is commonly found in the barrel plating process.
Braxton's proprietary drawing machines are built in-house. Coupled with the advanced in-house carbide die-making facilities, Braxton's drawing machines enable them to produce parts in more sizes, and with significantly superior tolerances and finishes, in comparison to competing processes.
Capabilities:
Multiple Diameters
Slotting
Tabs
Shaped Piercing
Shaped Flanges
Tapers
Side Holes
Bead Diameters
Crimp Forming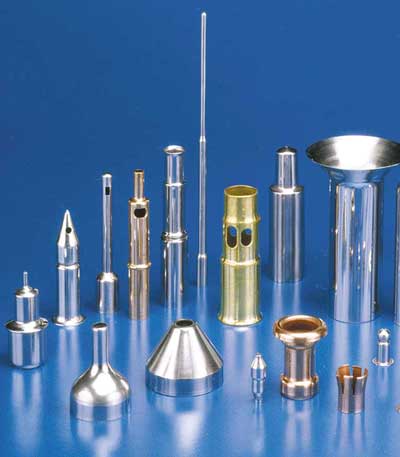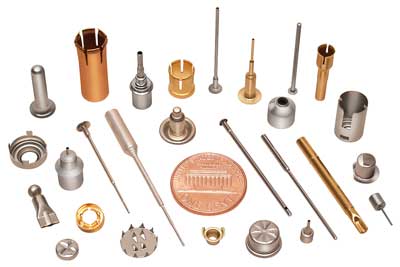 More information about Small Parts.
About
Braxton Manufacturing was founded in 1964 in central Connecticut, an area internationally known as a center of precision tool and die making with a highly skilled workforce. In 1972, a second manufacturing facility was opened in southern California to supply deep-drawn components to the growing west coast customer base.
Today, the 60,000-square-foot Watertown, Connecticut facility and the 30,000-square-foot Tustin, California facility are modern, state-of-the-art production plants that provide identical engineering and production capabilities on both coasts. Braxton currently meets the demanding requirements of customers in a wide range of industries, including Medical, Communications, Aerospace, specialty Automotive and Electronics.
Braxton's engineering department and proprietary drawing machines consistently meet the unique size, tolerance and finish requirements of the most challenging applications. If you have critical parts requirements, contact JVS today to learn how the precision deep drawing process can provide you with enhanced production efficiencies and cost savings over traditional manufacturing methods.
You want to know more about
Braxton?
Braxton Manufacturing Co.
Established in 1964
ISO 9001:2015 CERTIFIED
ISO 13485:2016 CERTIFIED
Braxton Manufacturing Co.

Watertown, CT | USA
Tustin, CA | USA
Download Brochures & Certificates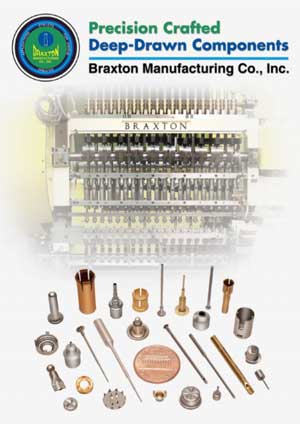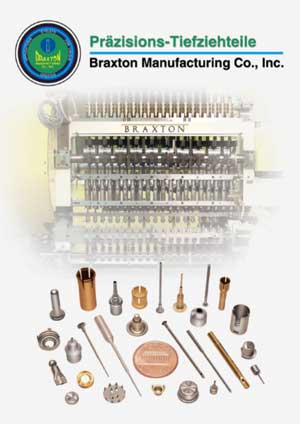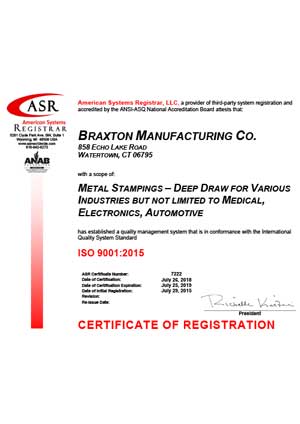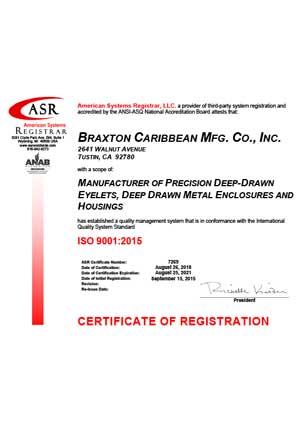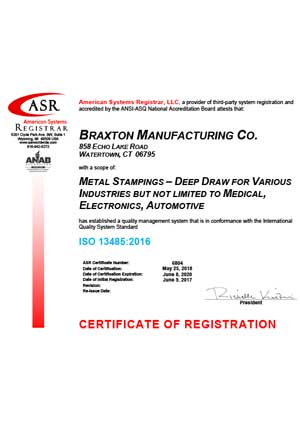 Small parts. Big solutions.