Surface Coatings
Coating Solutions
If you are looking for a competent partner to turn your ideas into innovative development concepts and efficiently transfer these through all phases of modern project management to serial production, you are in safe hands at NTTF Coatings.
Our operational team consists of highly qualified scientists, engineers and technicians from different natural scientific disciplines such as physics, chemistry, mathematics, biology and pharmacology as well as the engineering disciplines such as mechanics, electronics and IT, who are able to transfer their knowledge of basic research directly into excellent products which are state of the art.
Would you like to
know more?
CVD Parylene Coating Machine
The smaller CVD coating machine has a cylindrical vacuum chamber (see picture below) with a diameter of 40 cm and a height of 45 cm. This is located on a roll-able frame with the dimensions 90cm x 95cm x 70cm (W x D x H). The evaporator and reactor units are housed inside this frame, as is the powerful vacuum pump and the rotary drive for the samples retort. The frame is covered with metal sheets, each of which can be removed with a few screws. On the front side there is a door through which access to the evaporator is possible in order to bring in the dimer (parylene raw material) for the process operation.
Due to the technology of the vacuum system developed at NTTF, the plant does not require an additional cooling unit as is necessary in conventional machines for this coating technique, so that both maintenance costs and energy costs are reduced.
The coating unit is operated with the help of a fully automatic PLC control (Siemens S7). A 12-inch touch panel is used to enter the process parameters and to visually display the process sequence. All relevant process data are recorded, displayed and stored in a data memory during the coating process. With the help of an integrated network module, the machine can be connected to a data network and is thus also accessible for remote maintenance, for example, for installing a software update or remote diagnosis. The electronic components for controlling the machine, as well as power electronics, are located in a control cabinet attached to the rear of the unit.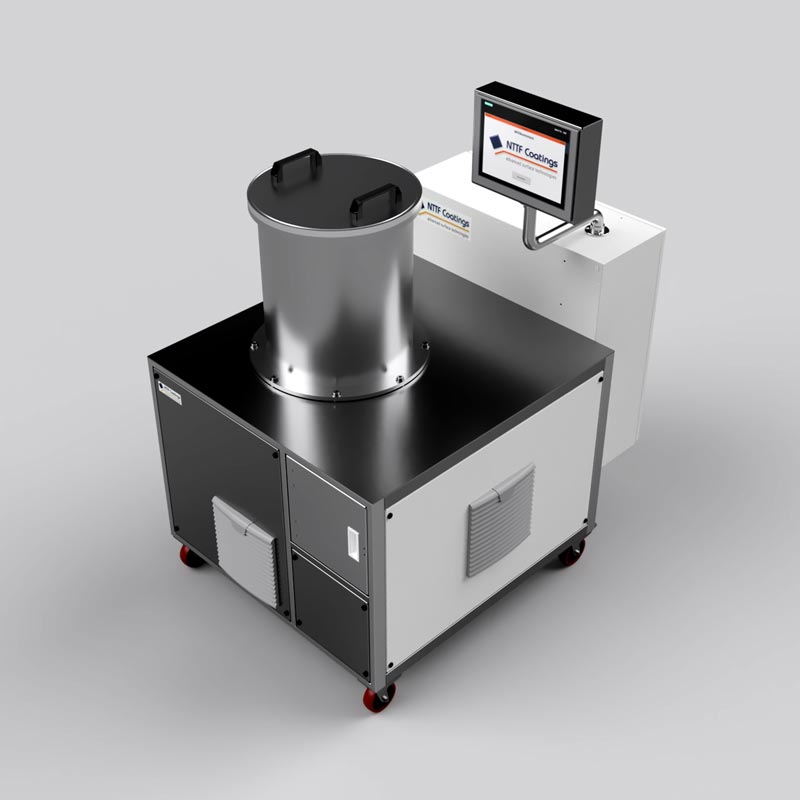 Småland
Chamber Type: Round

Vaccuum Chamber: 
h: 450mm / Ø: 400mm

Coating Speed: Up to 5 µm/h

Delivery: 20 weeks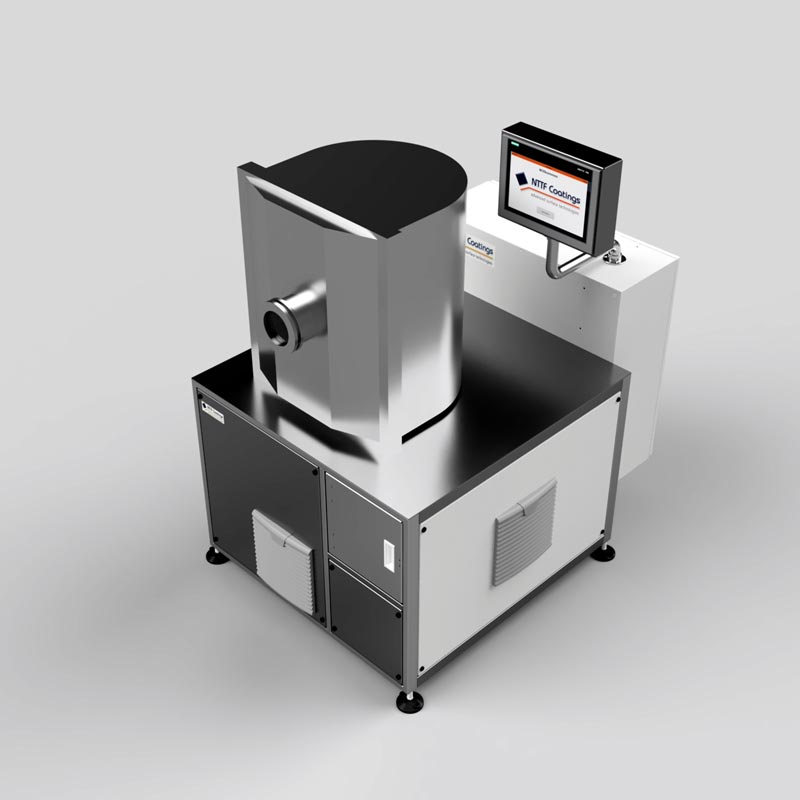 Midland
Chamber Type: Semi Round

Vaccuum Chamber:
h: 600mm / w: 520mm / d: 480mm

Coating Speed: Up to 5 µm/h

Delivery: 20 weeks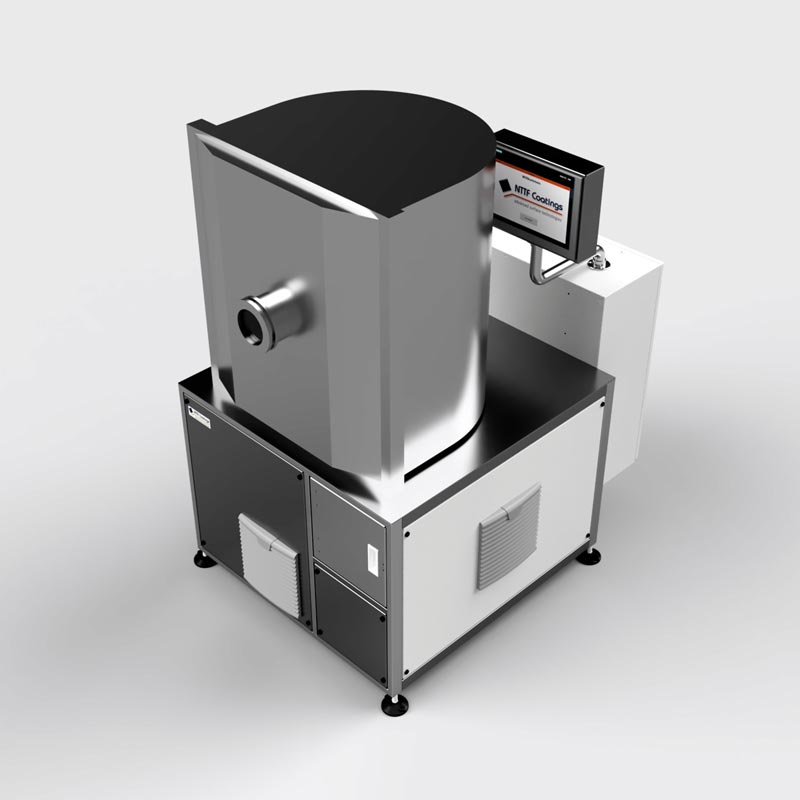 Highland
Chamber Type: Semi Round

Vaccuum Chamber:
h: 750mm / w: 700mm / d: 630mm

Coating Speed: Up to 5 µm/h

Delivery: 20 weeks
These machines can be customised and adapted to suit specific applications. Any modifications to the standard machines need to be costed separately.
About
NTTF Coatings GmbH
NTTF Coatings GmbH is an emerging service company in the areas of coating, equipment manufacturing and development. NTTF is committed to issues of innovation and technology with renowned customers, among others in the medical device industry.
NTTF was founded in 2008 by Dr. Heinz Busch and Dr. Udo Grabowy. Since 2008 it is an ISO 9001 and ISO 13485 certified company.
In 2011 Tixx Coatings was founded as a subsidiary, which specialises in Parylene coating in the industrial sector.
The management of NTTF has more than 15 years of experience in medical technology and together with the entire team they stand for customer-oriented, goal and future-oriented services. NTTF focuses on the technical core competencies: coatings for medical applications, plant engineering and construction, development, and manufacture of medical diangnostica, electronics, quality assurance, Due to the continuous expansion of our network NTTF can meet the special requirements of customers and works together with them to find unique solutions.
NTTF Coatings GmbH

Rheinbreitbach | Germany
Established in 2008
ISO 9001 CERTIFIED
ISO 13485 CERTIFIED

JVS Sales & Technical Consultants GmbH
We are here for your ideas.
Small parts. Big solutions.